Spirit Wear & Softball Gear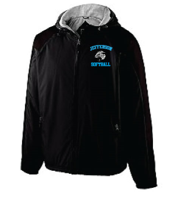 2022 SPRING SPIRIT
WEAR STORE
STORE IS CLOSED
Orders will be delivered directly to your home in April. 
 
*Spirit wear is not required!
SOCKS & BELTS & HELMET
STORE IS CLOSED
Helmets - 
We will be changing to all white helmets in 2022. YOU ARE NOT REQUIRED TO PURCHASE A NEW HELMET. Players can wear any helmet they already own if they wish.
Players will order their Batting Helmets, Socks and Belts individually.
Players on all teams will need both blue and white socks and blue and white belts.
If you order a helmet, see coach Rob Giesen for the Jaguar sticker for the front.
Reminder that returning players only need to order these items if they need to replace worn-out items.